Commercial Lockout Services
Have You Accidentally Locked Yourself Out of Your Business Or Lost Your Storefront Key?
We can get
YOU
back inside your business in no time!
If you have reached this page, chances are that you have been locked out previously. Or you may be locked yourself out right now, and you're looking for commercial lockout service. We provide commercial lockout services in the area of Gold Coast and Tweed Heads. We can also provide lock replacement service if needed for every house and business. Look at the locks installed on your doors, what condition is it? It's important to remember, a malfunctioning lock won't secure your property, nor protect you from criminals!
Express Locksmith Gold Coast is proud to offer commercial lockout services for businesses in Gold Coast and Tweed Heads. From opening a file cabinet to storefront lock or storage room, we can open all locks. Whether it is mortise locks or rim lock, our locksmiths are trained to open almost all type of locks. And all of that without damaging the lock or door itself.
If you have ever made the mistake of locking your office key in your office, you know how frustrating that situation can be. You may not have a spare key and many commercial locksmith companies can take hours to arrive on the scene. A scenario of a business lockout can completely ruin your business day!
Here at Express Locksmith Gold Coast, we want to make your stressful moment as stress-free and easy as possible. With this in mind, we want to get you back on the road, as soon as possible, so you can get back in your business, and to your busy day. Our professional lockout service is a year round service, we're working for you 24 hours a day, 7 days a week. You can rest assure that we can get your locked door open at any time, and quick as possible. Whether it's a storefront lockout, office lockout, or conference room lockout, don't hesitate to call us, and expect our professional technician to arrive within 20 minutes of your first call.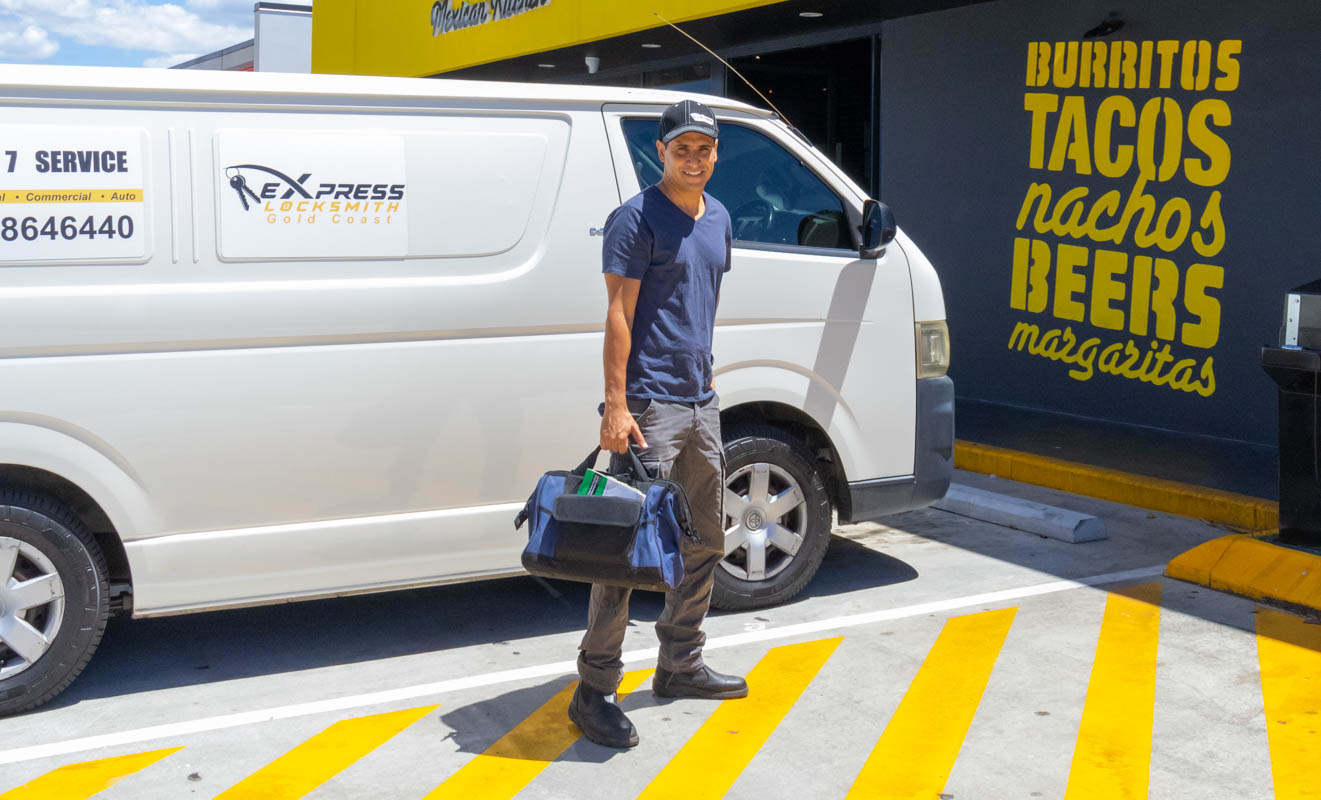 Have You Broken the Key Inside the Lock?
You just arrived at your business, you inserted the key and turned it to unlock the door, but the key broke inside the cylinder! Or you've finished your work, run to your car and inserted the key to unlock the door of your car, but only the head of the key is left in your hand and the blade of the key is stuck in the lock. It can happen to anyone and everywhere in the car, at home, or in the office.
Commercial lockout incidents can happen when you snap the key and break it inside a lock. If you have reached this page, chances are that you have broken your keys previously, or found a tiny crack on your key, and you assume that it gonna break soon. If so, you have found the best solution for your problem because Express Locksmith Gold Coast can help.
We Can Open the Following Locks